ROSC (Resources for Organizing and Social Change formerly INVERT) was founded in 1977 by people who wanted an organization to promote nonviolence and social change through mechanisms of education, training, and organizing. ROSC's mission is "to build and support a movement for nonviolent social change that will educate, activate, and empower all Maine people through grassroots community organizing." We believe the most effective way to make change is to focus on root causes, and to organize with and encourage leadership in people who are impacted by the issues they are trying to change. 
With that aim in mind, it makes sense then that in early 2015, when ROSC's founder, Larry Dansinger, found himself ready to take a step back from the typical ROSC work he'd done for decades, Sass Linneken is the person he handed the reigns to. Meet Sass:
Though Sass found their stride in social change work largely through their affiliation with Unity College where they graduated Valedictorian with an Environmental Writing and Media Studies degree (said as they brush off their shoulder and do a pirouette), it was the life of hard knocks they stumbled through before eventually becoming a non-traditional student in their 30's that drew them to this type of work. On their own since age 16, and a veteran of chronic homelessness, Sass is no stranger to what it means to struggle and how it feels to try and thrive in a world where the deck is stacked against those at the bottom. Because they didn't see their life change with any drastic measure until they started chipping away at the underlying, root causes of their personal struggles, they found ROSC to be just the right fit professionally because of its focus on root cause work. Though Sass much enjoys engaging in various types of direct-relief charity work, what they most enjoy is trying to knock down the pillars of violent, exploitative, capitalist, colonizing culture that neglect the poor and working class and are the impetus for racism, homelessness, climate change, war, environmental degradation, hate and intolerance to begin with.
In addition to the full-time work Sass does, ROSC also functions because of the invaluable work of other consultants, a highly dedicated Board of Directors, and a large handful of indispensable volunteers.
ROSC's additional consultants include:
Mike Reynolds, Ability Maine Web Manager and Reporter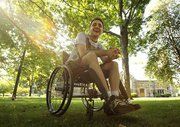 Mike Reynolds has been a web wrangler and writer for Ability Maine since 2009. Currently he does the web work for Breath & Shadow and Ability Maine and also writes the majority of AM's news content. Mike's interests and the scope of his writing are wide-ranging. He profiles members of Maine's disability community, covers news items of relevance to people with disabilities, and reports on his own or others' activism for social justice in Maine or around the country. Recently, Mike's exposé on UCP of Maine sparked outrage and was likely the impetus for important changes in the organization. Have a story idea, news tip, or interest in being profiled on AM? Mike can be reached at This email address is being protected from spambots. You need JavaScript enabled to view it..
Sean Quigley, Ability Maine Web Design Manager
Sean is a queer Disordered transfemme with a junk spine and a wild brain. They have organized queer safe spaces, done outreach for LGBTQ+ and homeless youth, and participated in local education reform. They're often seen raising a sign; some of their many protests include school funding cuts, LGBTQ+ discrimination, gender essentialism, and economic inequality. Their passions include creating queer media, destigmatizing and normalizing mental illness, nonfiction studies, intersectional feminism, and board games. They are also a core member of Mindful Queer Collective.
Chris Kuell, Breath & Shadow Editor in Chief
Chris Kuell is a blind writer, editor and advocate. In addition to editing Breath & Shadow, he edits The Federationist, the newsletter of the National Federation of the Blind of Connecticut. He is the president of his local NFB chapter, serves on the NFB of Conn., board of directors, as well as on the board of directors of BESB, the Connecticut state agency for the blind. His articles, essays, and stories have appeared in a number of literary, and some not-so-literary publications. Contact him at This email address is being protected from spambots. You need JavaScript enabled to view it..
ROSC's current Board of Directors are as follows:
Iggy Brimmer, Treasurer
Sally Brotherton
Christine
Jesse Flynn
Hillary Lister, Secretary
Annie Lunt, President